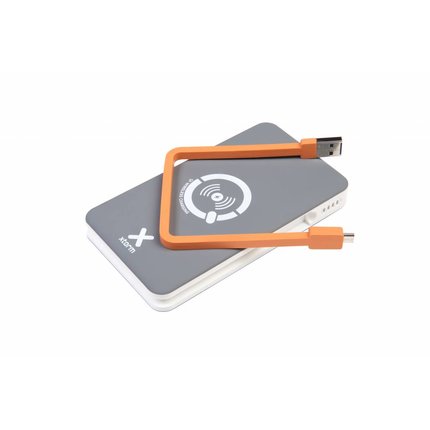 Information
Xtorm XB103 Wireless 8000 powerbank



The Xtorm XB103 Wireless 8000 features an internal Li-Ion 8000 mAh battery. This battery is powerful enough to re-energized your smartphone up to four times. Also, you can charge your tablet with it once.
A handy LED indicator on the side of the power bank gives the amount of energy that is still available.
The Xtorm XB103 is not much that you forget your cable. Mobile devices equipped with the new technology can be Qi namely recharged wirelessly.
The wireless charging is simple: Put your device on and charging starts automatically, or: place and charge!
In order to charge wirelessly, you must be mobile device '' Qi compatible '. Some mobile devices already have a Qi receiver. your mobile device here has? No problem: you can then buy a receiver so you still can use this handy power bank!
Read more about this on http://www.batts.nl/nl/draadloos-opladen/ .
Besides the wireless charging can be charged simultaneously two mobile devices thanks to the two USB ports with a charging cable.
The Wireless 8000 can be recharged itself through the USB charging cable. This can be done via USB and AC power.
The cable required for this is designed in a U shape. This makes it easy to fit the powerbank back and you always have it with you.

Specifications Xtorm XB103 8000 mAh power bank:
Battery capacity: 8000mAh
Battery Type: Li-Ion
Dimensions: 13.8 x 7.2 x 2.0cm
Input: 5V / 1A
Output: 2 x 5V 2.5A
Weight: 260 grams
Xtorm XB103 Wireless 8000 mAh power bank
Delivery time: On working days ordered before 17:00 tomorrow in the house
View related products