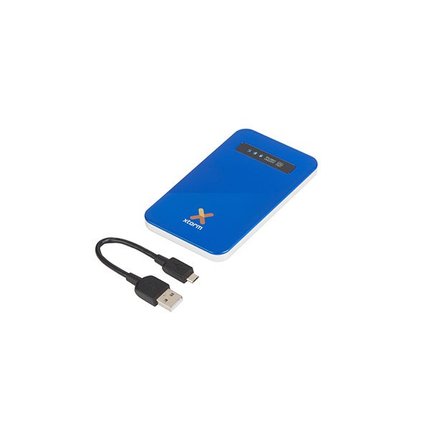 Information
AL400 Xtorm Power Bank Elite 5000
This super flat (only 8mm!) Power Bank Elite 5000 is designed to charge your smartphone and tablet anywhere, anytime.
With the powerful internal 5000mAh battery you can recharge an average smartphone up to 2.5 times!
This Power Bank charges also your MP3, E-book reader or GPS/satnav. An indispensable product during holydays, business trips and free time where no AC adapter is available.
This handy accessory is equipped with an USB output of 5V/2.1A. The Power Bank Elite can be recharged by USB/AC or with the Xtorm SolarBooster 12Watts panel (Art.nr AP150, not included with this Power Bank).
Finished in trendy blue and practical pocket size. The box of the Power Bank Elite 5000 contains: Micro USB charging cable and manual.
Features
Flattest Power Bank in the world!
Internal 5000mAh battery
Compact and lightweight, easy to take with you on the go.
Specifications
Dimensions: 6,7x11,8x0,8cm
Color: Blue
Weight: 105 grams
Battery: 5000mAh Li-Ion
Packing: Retail Box
Output: Female USB (5V/2.1A)
Included: Manual and USB charging cable
Xtorm AL400 Power Bank Elite 5000 - Blue
Delivery time: On working days ordered before 17:00 tomorrow in the house
View related products