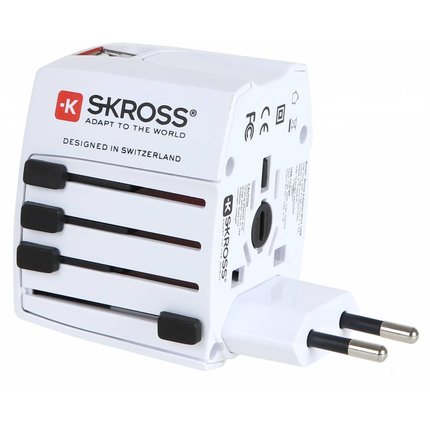 Information
The compact, versatile World Adapter MUV USB from SKROSS can do everything at once if you want it to. While the adapter provides the correct connection for your electric razor, the built-in USB charger module charges up your smartphone and tablet PC at the same time.
Built-in dual USB port
This is made possible by the integration of a dual USB charger directly into a SKROSS World Adapter for the first time. This means that during the charging process, the connection side of the adapter is left free and can be used without restriction. The dual USB port provides a total of 2100 mA of load power, sufficient energy to charge two USB devices easily, even if another device is connected via the adapter at the same time.


Specifications
Designed in Switzerland
Suitable for all 2-pole (unearthed) devices
Dual USB port for charging USB devices
Receptacles for: Euro, USA/Japan, Australia/China,
UK (UK not in the Swiss version)
Retractable plugs: Euro, USA/Japan, Australia/China, UK
Input voltage: 100V – 250V
Max. load: 2.5A
Power rating: e.g. 100V – 250W / 250V – 625W
Integrated fuse: T2.5A
USB output: 5V / 2100mA
S-KROSS wereldstekkers World MUV USB Adapter
Availability:

Out of stock

Delivery time: Ship out within 2-5 workdays