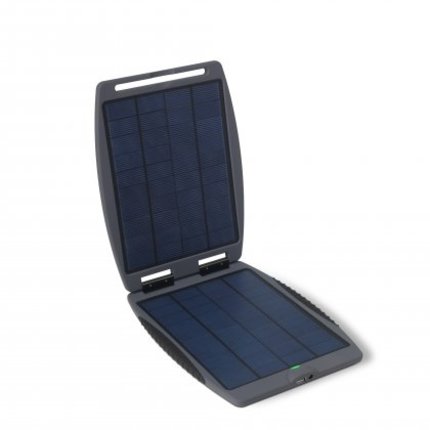 Information
SolarGorilla Solar Panel

Solar Gorilla Solar Panel enables anyone to wherever you're a power bank, laptop or other device to charge through sunlight. Whether you're in a remote location, on safari, in the mountains or simply move, the Solar Gorilla gives you anytime, anywhere power. Solar Gorilla is suitable to directly charge your laptop (5-20V), but can also be used to charge the Power Bank as bijvoorbeel Power Gorilla.


Features

• Compact and portable power battery
• Very robust solar panel
• Includes neoprene bag
• Direct charging option from solar energy
• Powerful Charger for your laptop
• Charge your phone, iPod or other device in a snap
• Water resistant
• Comes with many connectors
• Output cap. 20V - 500 mA max
• USB 5v -1000 mA max for loading directly
• Dimensions 264x200x19 mm
• Can be connected directly to the Mini Gorilla / Power Gorilla
• Foldable design so self-protective
• Can be placed with the mounting points on eg. Car during transport
• Green LED charging indicator
• Includes 2 meter USB cable

Pay attention!

Solar Gorilla is also compatible with Apple's MacBooks. For this, it requires an Apple MagSafe Airline Adapter. These include for sale in the Apple store.
Powertraveller SolarGorilla Solar Panel
Delivery time: 5-7 days
Type of battery: Only a charger
Energy: not applicable
View related products