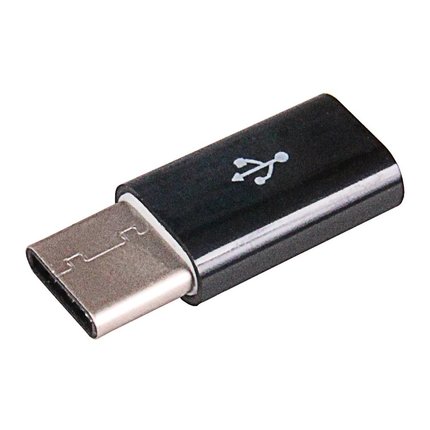 Information
There is a new type USB, namely USB-C. 
We are already familiair with USB-types A and B. 
USB A ports are the original entrances, these are found in computers, game consoles and media players. USB-B ports are the mini-USB and micro-USB, these are used for example used to charge mobile devices.

Recently they add the new type, USB-C. This type of USB enables faster communication between devices. This allows laptops recharge via USB. In addition, USB C allows the simultaneous charging and data transmission possible.

The main advantage of USB-C is the face that it has no top or bottom. This allows you to simply plug it in.


USB type A will disappear and be replaced by USB-C. It will probably be a long time before USB-A has been completely replaced. Does your device already use USB-C and the only cables you have are the USB-B cables? No problem! Thanks to the Patona micro-USB tot USB-C converter.  

The adapter is simple: you plug your micro-USB cable into the adapter and plug the adapter into the device with the USB-C connection and charging starts. Thanks to the converter you can recharge a new device with an old cable. This way you don't need to buy new cables, but just use the ones you have. 

The converter can also be used when you want to transfer files from your external harddrive to your new USB-C device.


The converter of Patona has the same shape and size as a USB flash drive so easy to carry.
Patona Patona micro-USB to USB adapter-C converter
Article number:

5018

Delivery time: Ships within 24 hours on weekdays
View related products