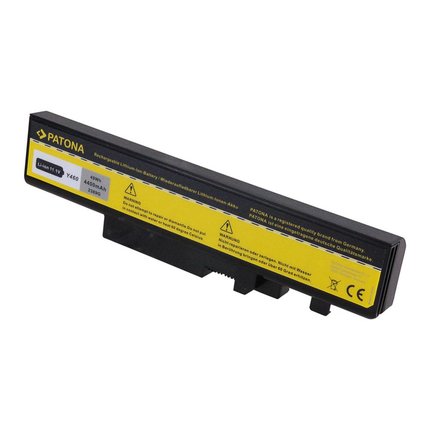 Information
Details:

Voltage: 11.1 V
Capacity: 4400mAh
Type: Li-ion


The battery is compatible with the following models: 


Lenovo
IdeaPad B560, B560A, V560, V560A, Y460, Y460 063334U, Y460 063335U, Y460 063346U, Y460 063347U, Y460A, Y460A-IFI Y460A-ITH, Y460AT, Y460C-ITH, Y460G, Y460N, Y460N-IFI Y460N-ITH , Y460N-PSI Y460P-IFI Y460P-ISE, Y460P-ITH, Y560, Y560A, Y560A-IFI Y560A-ITH, Y560DT-ISE, Y560G, Y560P-IFI Y560P-ISE, Y560P-ITH, Y560PT-ISE

This battery replaces the following batteries: 

 
Lenovo 121000916, 121000917, 121000918, 121001032, 121001033, 121001034, 57Y6440, 57Y6567, 57Y6568, L09N6D16, L09S6D16, L10L6Y01, L10N6Y01, L10S6Y01
Information: 



This Li-ion battery is a quality product. The battery is 100% identical to the original battery and is manufactured to the highest European quality standards and extremely long life. This longevity means that the battery can be recharged many times. In addition, the battery discharges slowly making the battery a long time after charging is still working.
Our replica batteries are cheaper than the original and all the electronic security of the original batteries.
The photos are only example images. Ion batteries, cables and chargers can differ from the image.
Patona Battery Lenovo 121000916 121000917 121000918 121001032 121001033
Article number:

2389

Delivery time: Ships within 24 hours on weekdays