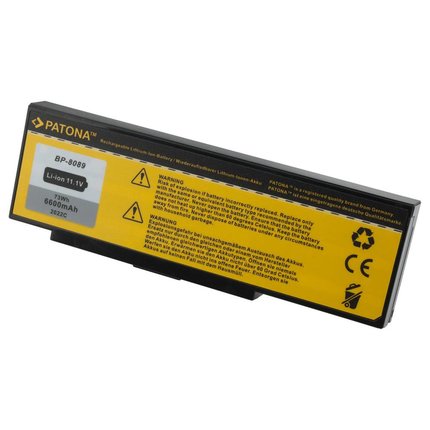 Information
Replacement Li-Ion Battery for MEDION MD41621 MD41638 MD95062 MD95135 MD8089

This Patona battery replaces your original battery. It has identical features and quality as your original battery but is priced more affordable. 
Details:

Voltage: 11.1 V
Capacity: 4400 mAh
Type: Li-ion



The battery is compatible with the following models: 



MEDION / MICRO STAR
MD41621, MD41638, MD8089, MD95062, MD95135, MD95144, MD95190, MD95383, MIM2040 (MDC4A) MIM2040 (MDC56), MIM2050 (MDC4A) MIM2050 (MDC56), MIM2050 (XG-60x), MIM2050 (XG-650), 8089, 8089P, 8389, 8889, K7600
PACK HARD BELL
EasyNote Series EasyNote
E1, E3, E5, E6, E1245, 1260, 1280, E3215, E3225, E3227, E3228, E3240, E3242, E3243, E3243, WE3244, E3244SE, E3245, E3246, E3248, E3248SE, E3250, E3255, E3256, E3258, E3265, E3266, E5138, E5141, E5142, E5145, E5146, E5147, E5151, E5155, E5155SE,
YAKUMO
Q7M 8089, Q7M Mobilium 3YW, Q7M Mobilium 3YW DE, Q8M YW Turion 64, 8089
FUJITSU-SIEMENS
Amilo K7600, K7600 D K7610
ADVENT
8089, 8089P, 8389, 8889
BLUE DISK Artworker
8089, 8889, A89, C89
GERICOM
Bellagio 1440.1540, GERICOM 8089, 8089P, 8389, 8889
MITAC
MiNote 8089, 8089C, 8089P, 8389, 8889
NEC
Versa E680, M500, Versa Premium 3240, Osiris S603
SCHNEIDER
8089, 8089P, 8389P
Maxdata
3140, 3150x, 3200x, M-755 Book


This battery replaces the following batteries: 



BP-8089, 8089P, 8089X, 8389, BP-LYN BP-8389, K700, 442677000001, 442677000003, 442677000004, 442677000005, 442677000007, 442677000010, 442677000013, 442682800001, 442 682 800 002, 442 682 800 004, 442 682 800 008, 442 682 800 014, 442 682 800 015, 442 682 800 018, 442 682 800 027, 442682800030, 44268284


Information: 

This Li-ion battery is a high quality product. The battery is 100% identical to the original battery and is manufactured to the highest European quality standards and has extremely long life cycle. This long life cycle means that the battery can be recharged over and over again. In addition, the battery discharges slowly which means the battery will work long after it has been fully charged.
Our replica batteries are less expensive than the original battery but have all the electronic safeguards of your original battery.
Pictures are only included for illustration purposes. Actual delivery may vary.
Patona Battery for MEDION MD41621 MD41638 MD95062 MD95135 MD8089
Article number:

2022

Delivery time: Ships within 24 hours on weekdays