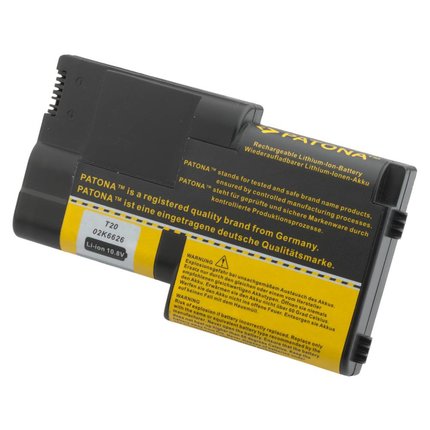 Information
Replacement Lio-Ion Battery for IBM Thinkpad T20/T21/T22/T23/T24

This Patona battery replaces the original battery and has gathered all the features of the original. Thus, this battery the same quality but the price is lower.
Details:

Voltage: 10.8 V
Capacity: 4400 mAh
Type: Li-ion

The battery is compatible with the following models:

IBM ThinkPad T Series
IBM ThinkPad T20 Series
IBM ThinkPad T21 Series
IBM ThinkPad T22 Series
IBM ThinkPad T23 Series
IBM ThinkPad T24 Series

This battery replaces the following batteries:

02K6620, 02K6626, 02K6627, 02K6644, 02K6645, 02K6646, 02K6649, 02K7028, 02K7027, 02K7026, 02K7025, 02K6649

Information:

This Li-ion battery is a high quality product. The battery is 100% identical to the original battery and is manufactured to the highest European standards and has extremely long life. This longevity means that a large number of times the battery can be charged. In addition, the battery discharges slowly allowing the battery for a long time still work after charging.
Our replica batteries are voorderliger than the original and have all the electronic security of the original batteries.
The photos are only example images. Ion batteries, cables and chargers can differ from the image.
Patona Battery for IBM Thinkpad T20/T21/T22/T23/T24
Delivery time: Ships within 24 hours on weekdays
Type of battery: Lithium Ion
Energy: 4400 mAh
View related products