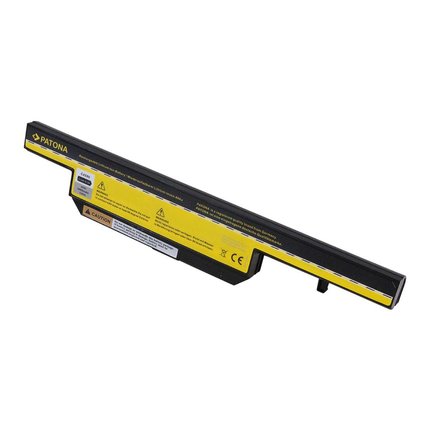 Information
Details:

Voltage: 11.1 V
Capacity: 4400mAh
Type: Li-ion


The battery is compatible with the following models: 


ADVENT
6411

Agilitas
AO10716, AO170717, AP10800, AP750, C5500Q, W251BUQ, W270BUQ

Chile Green
Mobilitas B5130M

CLEVO
B5130M, B7110, B7130, C4100, C4500, C4500q-M220s, C4501, C4505, C4800, C4801, C4805, E4105, E4107, E7130, mySN, W150HRx, W170HR, W1x0HNx, W245EUQ, W25xBWQ, W2xxBUx, W2xxCU

Gigabyte
Q1732

Hi-Grade
C5101

Mobilitas
E7130, OD0710, OD0723

Pcspecialist
Optimus II

donor
XMG A500, A501, A502, A701, A702 Advanced

TERRA
MOBILE 1511

ViewSonic
VNB142

Wortmann
Terra Mobile 1509, 1526, 1527, 1528, 1547, 1547p

Xesia
E500

Xirios
B401, B512, E7130

This battery replaces the following batteries: 

 
Clevo 6-87-C480S-4G4, 6-87-c480s-4g41, 6-87-C480S-4G4B, 687C480S4P4, 6-87-C480S-4P4, 6-87-C480S-4P42, 6-87-E412S-4D7 , 6-87-E412S-4D7, 6-87-E412S-4D7A, 6-87-E412S-4Y4, 6-87-W24ES-4W4, 6-87-W27PS-4P4, C4500BAT6, C4500BAT-6
Information: 



This Li-ion battery is a quality product. The battery is 100% identical to the original battery and is manufactured to the highest European quality standards and extremely long life. This longevity means that the battery can be recharged many times. In addition, the battery discharges slowly making the battery a long time after charging is still working.
Our replica batteries are cheaper than the original and all the electronic security of the original batteries.
The photos are only example images. Ion batteries, cables and chargers can differ from the image.
Patona Battery Clevo 6-87-C480S-4G4 6-87-c480s-4g41 6-87-C480S-4G4B
Article number:

2395

Delivery time: Ships within 24 hours on weekdays