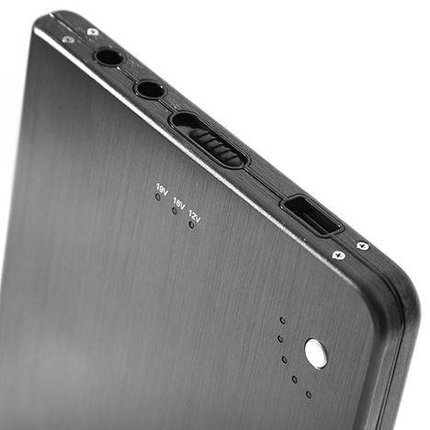 Information
16000 mah external battery / power bank for laptops

This extremely powerful and elegant 16,000 mAh Power Bank is able to charge your phone, GPS, tablet or laptop. The Power Bank has a silver-gray aluminum body. Included in the body work of this Power Bank is an LED indicator that shows how much energy is still left in the power bank. With this powerhouse, you can charge your laptop wherever, whenever.

In its design the Power Bank has a laptop output and an USB output, which will allow you to simultaneously charge your laptop and your phone. The Power Bank comes with 10 different laptop outputs and 10 different attachments for the USB output. These attachments are suitable for virtually any mobile device. In addition, the Power Bank has a so-called 'output regulator' which you can adjust (either 12V, 16V or 19V).

Details
Extra strong and durable battery

LED indicator

USB and DC output

Sleek, modern design

Compact size

Quick-charge

Energy efficient

User friendly
Specifications
Battery type: Lithium-polymer

Capacity: 16,000 mAh

Input: 15V-19V 2A

Output: 19V 3.0A, 16V 3.5 A, 12V 4A

USB output: 5V 2.1A

Adapters: mini USB, micro USB, Apple, Nokia (2x), Samsung, LG, Motorola, Sony Ericsson, Nintendo, digital camera
Connection: wall plug (using supplied plug)
Weight: 525 g
185 * 123 * 14mm
Works on include:
Apple, all iPhones, Ipods, Ipads 
USB, all phones and tablets that charging using USB connectors
GPS, like TomTom, Garmin GPS is not some
Laptops, of including Sony, Dell, IBM, Toshiba, NEC, Acer, Samsung, HP, Asus, Packard Bell & BenQ
Package includes:
16,000 mAh power bank
Adapter
DC cable for laptops + 10 inserts
USB Cable + 10 inserts
Manual (english)
Onlangs deze powerbank aangeschaft en ben er erg tevreden over.
Kan onderweg nu gewoon doorwerken en hoef niet altijd mijn laptop opgeladen mee te nemen.
Doet wat hij moet doen, erg handig om mee te nemen.
Snelle bezorging en product werkt prima dus een echte aanrader
5

stars based on

3

reviews

Patona 16,000 mAh Power Bank - External Battery for Laptops
Article number:

1994

Availability:

Out of stock

Delivery time: Ship out within 2-5 workdays
View related products