Categories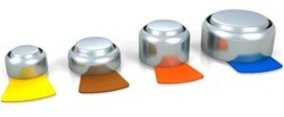 Hearing Aid Batteries
Batts.nl has a wide range of batteries for hearing aids. Our hearing aid batteries are of the best quality, because we can purchase high priced very beneficial. The contribution to the shipping costs for the batteries is always just € 2.99, regardless of how many batteries you order.

Choose your type of battery:
Temporary action:
Buy now at least 10 small packets hearing aid batteries and use the code 'hearing aid batteries. You pay no shipping!
Duracell Duracell hearing aid batteries 13

€4,99

€3,89

Duracell Duracell hearing aid batteries 312

€4,99

€3,89

Duracell Duracell hearing aid batteries 675

€4,99

€3,89

Powerone Powerone - Type 13 - Orange

€2,69

€2,39

Powerone Powerone - type 675 - Blauw

€2,69

€2,39