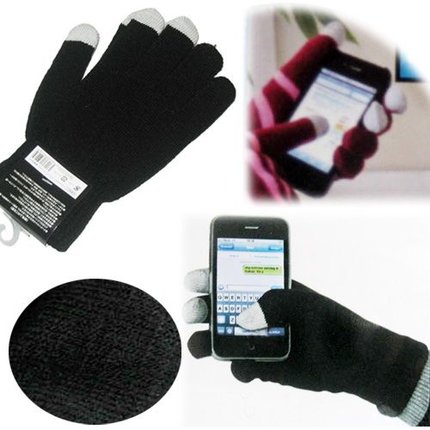 Information
Unisex Winter Gloves Universal Touch Screen Gloves for iPhone/iPad/Smartphones (Black)
Winter Tech Touch Gloves For Touchscreen Smartphones
The biggest problem with today's touch screen phones which use capacitive / touch screens
 are that you can't use them whilst using traditional gloves. With these gloves, 
you will be able to! Keep your hands warm and use your phone just as you would with no gloves on.
Features:
1. Keep warm and touch!. 
2. Keep your hands warm in the cold weather. 
3. Use your phone's screen whilst wearing gloves.
4. Classtic texture for enhanced grip and control.
5. Universal for ladies and men 
6. Gloves for touchscreen with touchscreen-material in 3 fingers
7. One size but soft and tensile
   - The length of Middle finger: 6cm (tensile)
   - The width of the middle finger: 2.5cm (tensile)
8. Type of packing: Plastic bag
9. Color: Black
Package included:
1 Pair Unisex Winter Gloves Universal Touch Screen Gloves for iPhone/iPad/Smartphones (Black)
Compatible with:
iPhone/iPad/i-touch/i-series...
Smartphones with tpuch screens...
Touch screen Tablet PC....
Touch screen protducts...
Batts Winter Tech Touch Gloves For Touchscreen Smartphones
Availability:

In stock

Delivery time: Ships within 2 days on weekdays
View related products