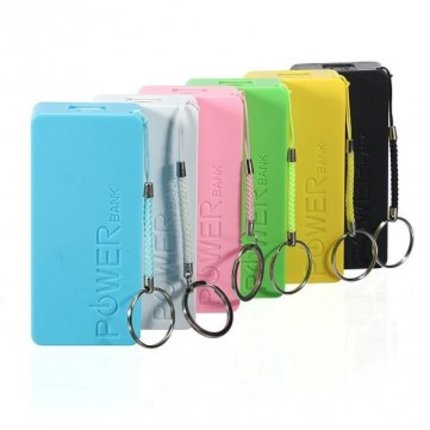 Information
5200 mah Power Bank keychain - External battery
This compact power bank is lightweight and comes with a keychain. The power bank you can always tuck away easily in your purse, pocket or jacket. With this power bank, you always have spare power on hand.

Never run out of battery you miss last call with this convenient wireless power bank. This gadget has an output of 5V 1A - 5200 Mah!

The power bank has a length of 9.7 cm and 2.25 cm high. The bank has a power indicator light that shows whether it is fully charged.


Free Micro USB cable! Valued at € 4.99.
The power bank is a free micro-USB cable included so you can connect almost any smartphone or tablet on the power bank. Of course you can connect your own USB cable to the power bank, with which every iPhone on the power bank will operate.
Specifications
Dimensions: 97 (L) * 45 (W) * 22.5 (H) mm
Weight: 122 g
Safety functions: with short circuit, overcharge, discharge protection function
Battery type: Lithium ion
Capacity: 5200 mah
Output: 5V 1a
Rated input: 5.0 V 1000 mA
Rated output: 5.0 V 1000 mA (MAX)
Batts Powerbank key 5200 mAh External Battery
Availability:

In stock

Delivery time: Ships within 2 days on weekdays
View related products