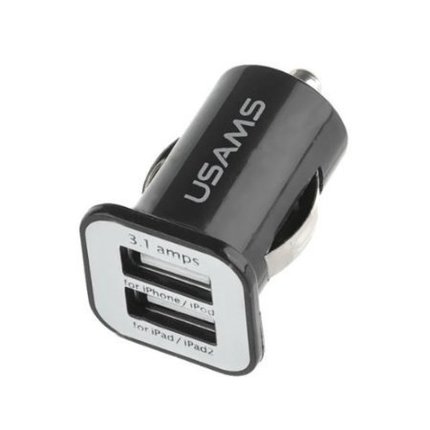 Information
USAMS Dual USB Car Charger



With this universal USAMS Dual USB Car Charger you will have two USB ports in your car. This way you can charge two devices simultaneously while driving. This way you can charge your iPad and your phone at the same time. Or you can use your GPS while charging your phone. 

What is unique about this charger is that it has a USB port with an output of 3.1 amps. This will enable you to charge the latest tablets. The charger is easy to use; simply connect it to the cigarette lighter in your car.



Specifications:
Input: DC 12V
Output: DC 5.0V 3.1A
2 Ports 3.1A max
Color: Black
Brand New, High Qulity
Charge 2 USB devices at the same time
Works with include:
Apple iPhone 3G, 3GS / 4 / 4S, 5, iPod, iPad, iPad
HTC HD2, HD 7, increadible S, Touch DUAL etc.
HTC Desire Z, Desire S, Desire HD
Other HTC mobile phone with Micro USB port
Samsung Galaxy S, Nexus S, Galaxy Note, Google Nexus
Nokia N8, N79, N85, N180 ... etc
Amazon Kindle 2, 3
Blackberry 9780, Torch 9800 etc.
Prima lader, werkt simpel. Je kan prima een iPad en iPhone tegelijk opladen. Twee iPads dan weer niet maar dat maakt niet uit.
Goede lader, voorziet zowel mijn Iphone 4 als mijn Ipad 4 van stroom. Ben ook blij dat er geen hinderlijke lampjes in zitten die je in het donker verblinden.
Al met al dus een goede koop, en lekker snel geleverd!
Prima ladertje hoor. Werkt prima.
De telefoon trekt meer stroom dan deze lader levert. Beide poorten en verschillende kabels geprobeerd. Telefoon is een Samsung note 3.
Mijn 1 ampère lader laadt de accu wel op tijdens gebruik van navigatie, flitsmeister en muziek over bluetooth. Ik hoopte dat het met deze lader sneller zou gaan maar het tegendeel is waar.
Ideale oplossing voor in de auto. Eindelijk kan ik mijn iPhone en TomTom tegelijk opladen met deze Dubbele USB-autolader.
4.6

stars based on

5

reviews

Batts USAMS Dual USB Car Charger
Availability:

In stock

Delivery time: Ships within 24 hours on weekdays
View related products