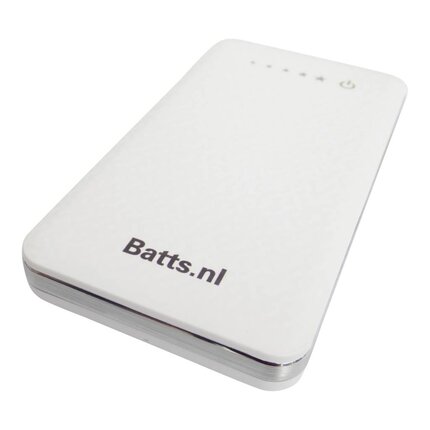 Information
Batts 8000 mAh power bank with touch button
This power bank is about the same size as an iPhone 6.
He is also very handy and can withstand rough treatment. Thanks to the 8000 mAh is not only suitable for your phone / GPS / PSP but also for an iPad or tablet. 2 devices at the same time is no problem.

The power bank has no physical buttons, and will therefore never ergen linger behind. So you can very easily stop him in your pocket. You do not even have to worry that he will consume unnecessary power when you put it in your pocket or purse stop, touch the button only responds when you touch it yourself.

Because these powerbank a 2.1 amp output is you can easily make a tablet or iPad charging it. He also has sufficient capacity for this.

This power bank is produced in cooperation with our regular manufacturer. Together we went for power banks that are affordable but of very high quality. We even have so much faith in this power bank that here the name of our website to have them printed.


Properties


Capacity: 8000mAh
Battery type: Li-polymer
Input: DC5V 1A
Output1: DC5V 2.1A
Output2: DC5V 1A
Format: L123.5 x x B67.5 D15.7mm
Weight: 194g
Color: White, blue and pink
What's in the box?
Batts Power Bank
Micro-USB cable
Batts 8000 mAh power bank with touch button
Availability:

In stock

Delivery time: Ships within 24 hours on weekdays
Type of battery: Lithium Polymer
Energy: 8000 mAh