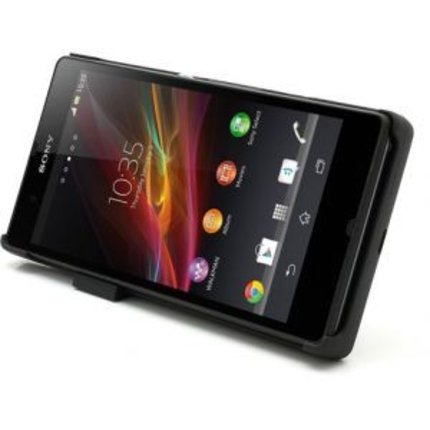 Information
2800 mAh Charger Case for HTC One
The 2800 mAh Cover Charger is an external battery and protective case in one. You slide the Cover Charger for Sony to start the battery function, you only need the button on the bottom of the product to convert. The Cover Charger is suitable for Sony L36H and can be charged using your own cable through the entrance at the bottom of the product. At the back of the product is a fold-out mini standard so your phone can remain upright and the reading and viewing convenience of your device is increased.

The Cover Charger is ideal to carry in your pocket and is easy to use. The product is suitable for the Sony L36H and comes in black color.

Features
New design
Top quality backup battery
Safe Li-polymer backup battery cells with stable and strong ability
12 month warranty.
Specifications:
Power: 2800 mAh
Suitable for: Sony L36H
Input: 5.0 V / 0.5 A
Output: 5.0 V / 0.5 A
Battery Type: Li-Polymer
Color: Black
Batts 2800 mAh cover charger for Sony L36H
Availability:

In stock

Delivery time: Ships within 2 days on weekdays