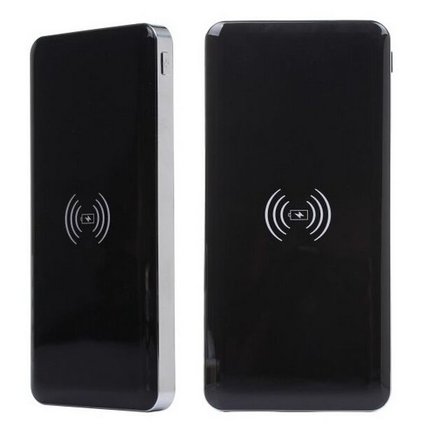 Information
10 000 mAh power bank for wireless charging
This wireless power bank is one with many features. He is normally used as a power bank for charging via USB, but this allows you to this through Qi wireless charging technology.
How does a power bank with Qi technology?
The power bank before you advance to recharge. When it is full, you can charge your phone anywhere with this wireless power bank. You can easily connect your devices to the power bench with the included micro-USB cable, or with your own charging cable. This power bank has two USB outputs and is therefore ideal for charging your phone, tablet or digital camera. Thanks to the 2.1 amp output goes charging faster than the computer.
If you have a device that has Qi technology lets you wirelessly charge your device with this power bank. You can then very simply your phone on the powerbank places and then charges wirelessly.
Does your phone yet about this new technology? Do not worry, you can make this very simple feature Qi technology.
By LED lights that sit in the power bank can tell you how much power is left in the power bank.
Can your phone all wireless charging? Or you can make your phone suited to recharge wirelessly? Read all about it in our blog:
http://www.batts.nl/nl/blogs/blog/je-telefoon-draadloos-opladen-met-qi-technologie/
Specifications wireless power bank:
Charging via USB cable or wireless Qi technology
Micro-USB cable included
Size: 15.3 x 7.3 x 1.25 cm
Weight: 215 grams
10 000 mAh capacity
Technical data:
Input: 5V / 1.0 amp
USB Output 1: 5V / 1.0 amp
USB2 Output: 5V / 2.1amp
Wireless output: 5W
Batts 10 000 mAh power bank for wireless charging
Availability:

Out of stock

Delivery time: Ships within 1 week