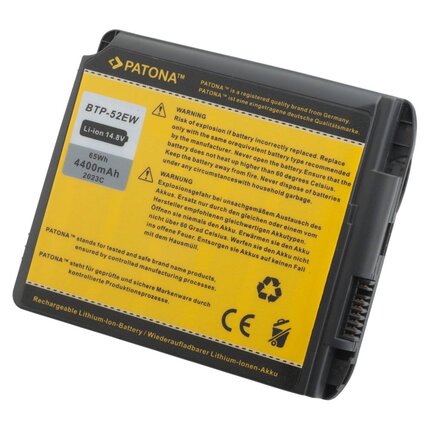 Information
Lio-Ion Replacement Battery for Fujitsu-Siemens Amilo M7400 BTP-52EW Pro V-2000

This Patona battery replaces your original battery. The battery has identical features and the same quality as your original battery but is much more affordable. 
Details:

Voltage: 14.4 / 14.8 Volt
Capacity: 4400 mAh
Type: Li-ion

The battery is compatible with the following models:

FUJITSU-SIEMENS
Amilo M7400, Amilo Pro V2000 Series


Aopen
Bare Book 1555, 1555A, 1555G, 1556, 1556A, 1556G, 1556J, 1556O, 1557, 1557A, 1557G, 1557J Series


Maxdata
Pro 7000x Series


LIFETEC
Coris 690, Coris Z71 Series


Wortmann
Terra Aura M8000 i9, MWS 8100 Series


Tronic5
C15, C15E, C15S, M15C Series


Wistron
MS2128, MS2137, MS2147 Series


Xeron
Sonic Pro X155G Series


Issam
Smartbook I-8090 Series


Medion
MD42200, MD95072, MD95300

This battery replaces the following batteries:

BTP-52EW, BTP52EW, BTP-89BM, BTP89BM, BTP-90BM, BTP90BM, 90.NBI61.001, 90.NBI61.011, 40,008,236, 400 011 354, 805N00005



Information: 

This Li-ion battery is a high quality product. The battery is 100% identical to the original battery and is manufactured to the highest European quality standards and has extremely long life cycle. This long life cycle means that the battery can be recharged over and over again. In addition, the battery discharges slowly which means the battery will work long after it has been fully charged.
Our replica batteries are less expensive than the original battery but have all the electronic safeguards of your original battery.
Pictures are only included for illustration purposes. Actual delivery may vary.
Patona Battery for Fujitsu-Siemens Amilo M7400 BTP-52EW Pro V-2000
Article number:

2023

Delivery time: Ships within 24 hours on weekdays