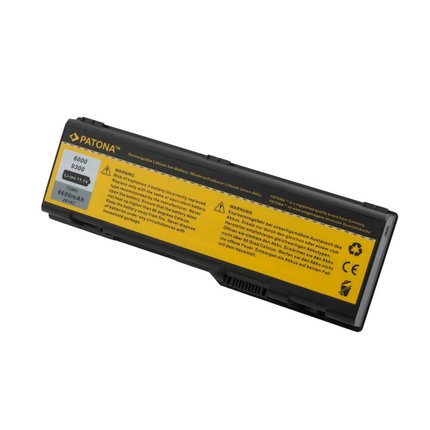 Information
Lio-Ion Replacement Battery for Dell 310-6321 312-0340 D5318 G5260 6000 - More Power 6600mA

This Patona battery replaces your original battery. It has identical features and quality as your original battery but is priced more affordable. 
Details:

Voltage: 11.1 V
Capacity: 6600 mAh
Type: Li-ion

The battery is compatible with the following models:

DELL Inspiron 6000
DELL Inspiron 9200
DELL Inspiron 9300
DELL Inspiron E1505n
DELL Inspiron E1705
DELL Inspiron XPS GEN 2
DELL Precision M6300
DELL precsion M90

This battery replaces the following batteries:

DELL 310-6321, 310-6322, 312-0339, 312-0340, 312-0348, 312-0349, 312-0350, 312-0429, 312-0455, C5974, D5318, F5635, G5260, G5266, U4873, Y4873 , YF976


Information: 

This Li-ion battery is a high quality product. The battery is 100% identical to the original battery and is manufactured to the highest European quality standards and has extremely long life cycle. This long life cycle means that the battery can be recharged over and over again. In addition, the battery discharges slowly which means the battery will work long after it has been fully charged.
Our replica batteries are less expensive than the original battery but have all the electronic safeguards of your original battery.
Pictures are only included for illustration purposes. Actual delivery may vary.
Patona Battery Dell 310-6321 312-0340 D5318 G5260 6000 - More Power 6600mA
Article number:

2014

Delivery time: Ships within 24 hours on weekdays